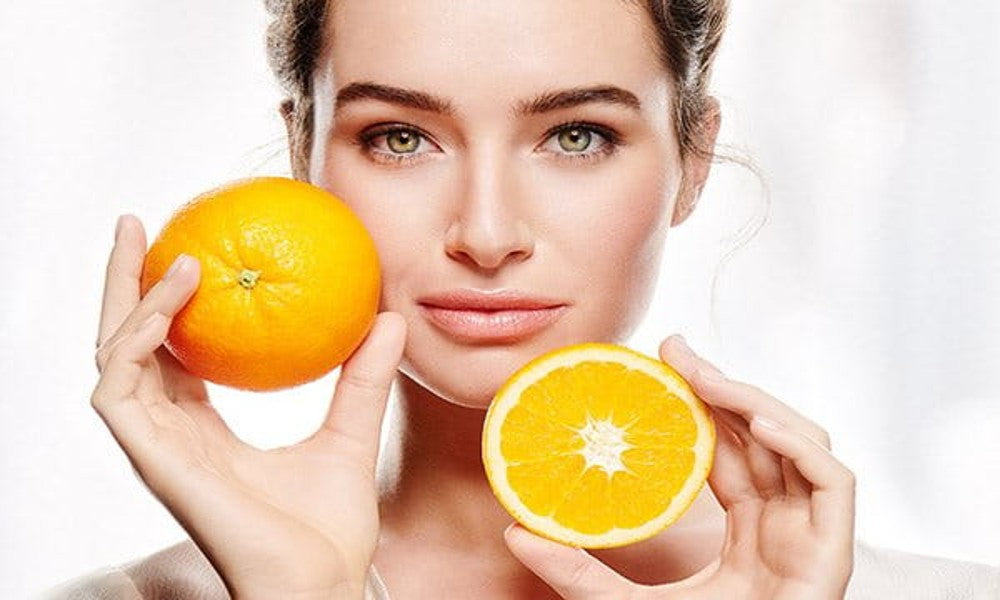 Why Vitamin C is good for your skin?
Introduction.
If you are enthusiastic about skincare, you have no doubt come across vitamin C products. Known for its anti-ageing benefits, vitamin C is a key ingredient in maintaining an even, smooth, and youthful appearance. Despite your likely intake of vitamin C through your diet, there is no assurance that it will reach your skin. These benefits are most readily attained when using serums and other topical products.
Find out why vitamin C should be a part of your routine -
• A high level of safety is associated with vitamin C. It is generally safe to use topical vitamin C for an extended period of time without experiencing any adverse reactions.
• One of the main derivatives of vitamin C used in skincare is magnesium ascorbyl phosphate, which hydrates the skin. Your skin will be better able to retain moisture by reducing trans epidermal water loss.
• Its anti-pigmentation properties can reduce dullness and help fade pigmentation. • Furthermore, these serums can plump and hydrate the area around the eyes along with smoothing out any fine lines. Vitamin C is noted for its ability to reduce redness, but some people claim it can also affect discoloration caused by it.
• Boosting collagen production is one of vitamin C's best-known benefits. Collagen is a naturally occurring protein that depletes with age. Fine lines and wrinkles can be caused by a lack of collagen.
• A group of molecules called free radicals causes sun damage. These are atoms with a missing electron. In addition to antioxidants, vitamin C is also an excellent source of dietary fiber. By giving free radicals an electron, antioxidants protect healthy skin cells from their harmful effects.
Drawbacks.
• Oxidation occurs as a result of both bad packaging and long shelf life. You need to throw away your ointment if it becomes cloudy or changes in appearance, smell, or texture.
• The skin of each individual is unique, and some people can be much more sensitive than others to face products. Although vitamin C serum is often fine for sensitive skin, it is a powerful product and should not be overused. Initially, it is best to use very small amounts of vitamin C serum and not use it every day. By doing this, you can observe your skin's reaction and allow it time to adjust to the serum. You may want to review the ingredients again and possibly try a new serum if you experience a lot of irritation.
Conclusion.
You can increase the radiance of your skin by using vitamin C. It helps reduce hyperpigmentation and protects against acne. Maintaining consistency is important, so incorporate the product into your routine in a way that is convenient for you. Some people apply it in the morning to take advantage of its UV protection, while others prefer to use it at night. Whenever you feel discomfort or irritation, stop using the product.
Suffderma's products address a number of skin concerns without costing a fortune, such as improving texture, fading dark marks, and even preventing breakouts. These products contain vitamin C, which helps in enhancing the skin's appearance and maintaining its radiance.
Suffderma
 skincare
 products contain Aloe Barbadensis (Aloe Leaf Juice), Green Tea Extract, Cucumber Extract, Salicylic Acid, Hyaluronic Acid, Peach Extract, Tocopheryl Acetate, Glycyrrhiza Glabra Extract, Ferulic Acid, Retinol Encapsulated, Ginkgo Biloba, Niacinamide, Chaulmoogra, Nigella sativa seed oil, Magnolia grandiflora bark  extract, Wheat amino acid, Glycerin. Moreover, they can be used with any skin type.
Ideal skin routine.
✓ Cleanse
✓ Toning
✓ Serum
✓ Moisturize.
Suffderma Products

 
Glycol Exfoliating Foaming Face Cleanser, Hydrabomb Foaming Face Cleaner, Unlock Foaming Face Cleanser, Unlock Brightening Face Serum, Hydrabomb Hydrating Face Serum, Restart Anti-Aging Face Serum, Hydrabomb Water Face Gel, Purite Anti Acne Oil Free Face Gel, Solar Shield Sun Block SPF 30+++ UVA/UVB 
---